About Us
Transformation Shop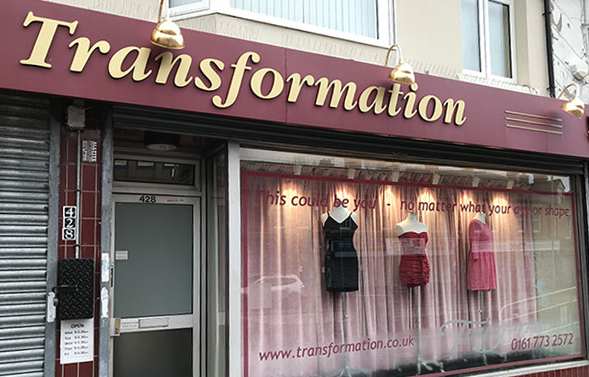 The one and only Transformation shop is located in Manchester, UK. Ever since the shop opened in 1984, we have been providing high-quality feminisation products and friendly, non-judgemental advice to cross dressers and the transgender community.
Find us at the following address:
428 Bury Old Road
Prestwich
Manchester
M25 1PR
Transformation's opening hours are 10:00 – 16:30 (Monday to Thursday) and 10:00 – 15:30 on Fridays. We're closed on Saturdays and Sundays.
Tel: +44 (0) 161 773 4477 | Email: info@transformation.co.uk
The UK's Oldest Transgender & Cross Dressing Shop
Our Manchester shop has been helping its customers fulfil their desires and fantasies for decades. It is the longest-serving store of its kind, not just in the UK but anywhere in Europe.
Transformation is totally unique and discreetly located. The shop stocks everything you've seen on our website, including:
No other shop in the world offers such a wide range of feminisation products - all produced especially for those transitioning from male to female, trans women, transsexuals, transvestites and cross dressers.
What to Expect When You Visit Our Shop
If you visit the Transformation shop in Manchester, you will find a unique range of high-quality products, combined with a genuinely friendly and efficient service in a warm, welcoming atmosphere. We have established a large base of loyal, regular, satisfied customers which is the best endorsement we could ever have hoped for.
Most customers are understandably very shy and apprehensive when they first walk into our shop, but our warm, sympathetic and mature female staff will soon put you at your ease, and you'll wish you'd plucked up the courage to visit us before. Every customer is welcomed with a warm smile and you can either browse in peace or have a member of staff help you select items. Most products are exclusive to and manufactured by Transformation, which allows us to give an unsurpassed quality guarantee.
If you've always dreamed of transforming yourself into a glamorous woman, we've got everything you need here at the Transformation shop. We can provide expert advice on what hormones to start with and what clothing suits you best, and our understand staff members are always happy to lend a sympathetic ear.
A warm welcome awaits you, all discreet and totally confidential.
Click and Collect
UK customers can order goods online and have their order delivered to the Transformation shop in Manchester for collection.
If you wish to collect from our Manchester store, follow our online checkout process and select COLLECTION FROM STORE as your delivery option. There is no charge for this service.

"Please thank the girls at the Manchester shop for the friendly welcome and understanding during the time I was at the shop yesterday."
Suzanne
"I found the courage to enter your shop in Manchester just over one year ago and what a wonderful experience it was for me. The staff were wonderful and I felt very much at ease and relaxed. My only regret is that I did not find the courage to do it many years ago."
Colleen
"I recently had the pleasure of visiting your store in Prestwich. I would like to thank both ladies, who were kind and patient with me while I tried on several pairs of shoes. I was starting to become disappointed as none of the shoes where fitting - the problem of having wide feet. One of the ladies had the bright idea of trying on a pair with an ankle strap and they were ideal. Please pass on my thanks to these two wonderful ladies."
Diane
"My name is Emma and I'd like to thank and praise all the help that Diane and her team at the Prestwich branch of Transformation have helped me to understand the feelings in my mind and body of being a female trapped in a male body for the last 45+ years with no one to talk to or to understand me as there was no Internet to find out about these things. I went online and looked at many sites, then I plucked up the courage and one day phoned Transformation. Diane answered the phone and after a long conversation I knew she understood how I felt and was there to help me. Diane recommended that I go on a course of hormones, I was a bit sceptical and cautious as I have read some good and some bad reports but I trusted her and placed an order. It's the best thing I have ever done – wow! They are amazing and they take away that feeling of being pulled male to female. I can't thank Diane enough for all her help and advice, she is amazing."
Emma
Reviews from Transformation customers

Sorry but we are not able to Sell or Supply any Transformation products to any person under the age of 21 years. By purchasing from our shop or placing an order by telephone or online, you are confirming that you are at least 21 years old.
Directions
BY ROAD: Take exit 17 from M60. Follow A56 towards Bury (dual carriageway). Almost immediately get into the right-hand lane and take the first right into Clyde Avenue (one-way street). At traffic lights, turn right into Bury Old Rd and the shop is ¾ mile on the left-hand side, just before St Margaret's Church.


BY TRAM: Take the Metrolink towards Bury from Victoria train station (in Manchester city centre), getting off at Heaton Park Station. Turn left from the station and walk up Bury Old Rd for about half a mile. Transformation is on the right.
Our shop is discreetly located in Prestwich, away from Manchester's busy city centre. However, for the more adventurous cross dressers who want to go out and be seen, a ten-minute taxi drive connects you with the vibrant buzz of the Canal Street area, where transvestites and transsexuals are warmly welcomed.
All visits to our Manchester shop are guaranteed to be confidential and discreet. Our highly-trained staff make it easy to overcome any 'first-time nerves' and you will always be welcomed by our team with support and encouragement